Intensive Business English Course in Amsterdam: Small Group
Join us in the center of Amsterdam for our small group intensive Business English course. This half-day, 20-hour, one-week course is led by top native English-speaker trainers at a great location just minutes from Amsterdam Central Station. Challenge yourself with one full week of immersion training. Learn business English with other business people in a dynamic, small group (maximum 5 participants).
Schedule: Business English Intensive Course Amsterdam 2023-2024. Upcoming course dates TBA 2023-2024.
Monday–Friday 13:00–17:00 / Total classroom hours 20 / Maximum participants 5
Do you need this training now? Have you considered personalized 1:1 intensive training?
Read more about 1:1 training here.
Communication Skills.
If you are not as "smart" in English as you are in your native language, this highly interactive, social course will support you in building the English communication skills you need to succeed. The course includes-
Presentation practice.
Discussion.
Meetings.
Vocabulary and idiom.
Writing English emails.
Readings from the Harvard Business Review, Economist and New York Times.
Business English is our speciality.
Business English training is our passion. Since 2009, we have been delivering Business English training 1:1, in-company, and in small groups here in the Netherlands.
Is this small group Business English Intensive Course for me?
This one week, small group Intensive Business English Course is appropriate for high intermediate and advanced levels (B2–C1+). This course will help you quickly develop the English skills and confidence that matter most in business. Your course will be fully customized for your English level, goals and career.
This Intensive Business English Course is right for you if you sometimes-
• Get confused in complex Business English conversations.
• Get tired when you have to speak English a lot.
• Cannot find the words you are looking for.
• Feel nervous when you are in an English business meeting.
• Let other people lead the conversation.
• Have to edit your English emails a lot to get them right.
• Think that your vocabulary and idiom is limited.
• In general, you feel frustrated that you cannot be your best in English!
Does this Business English course meet in Amsterdam?
This intensive speed course meets just a few minutes walk from Amsterdam Centraal Station. These locations are in the heart of the city and super convenient as a destination course from other cities.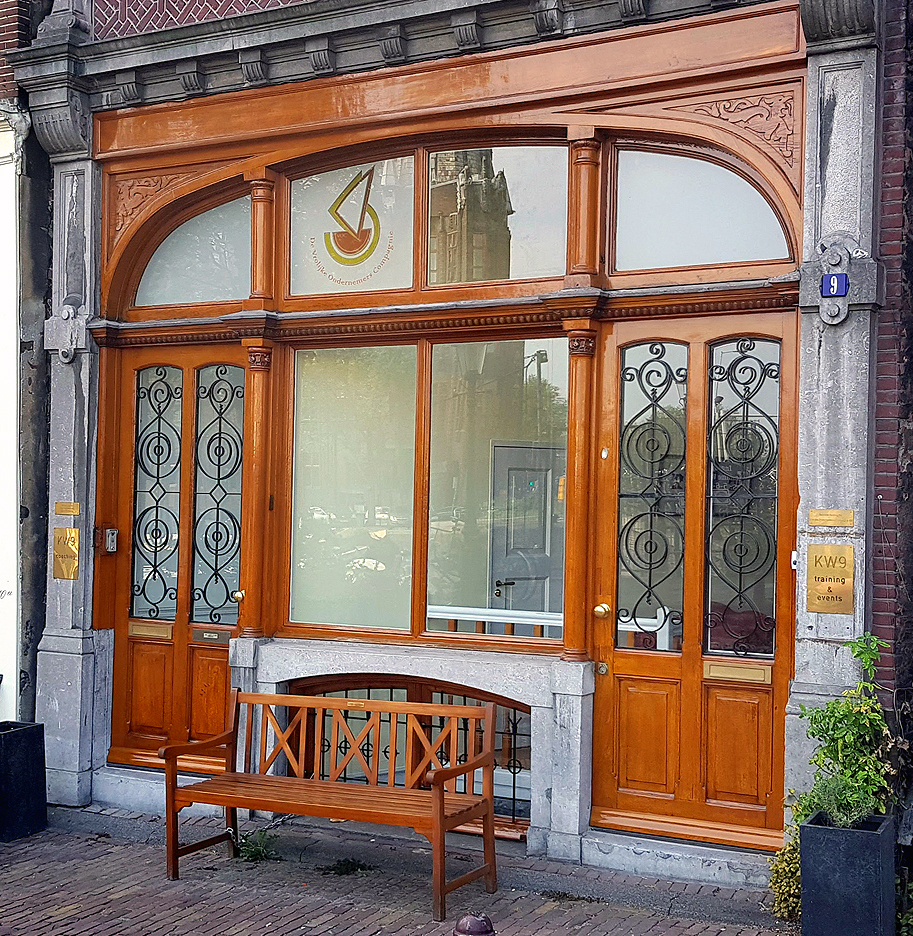 Location 1: Kromme Waal 9, 1011 BS Amsterdam, (above) was built in 1878, and was initially occupied by the English company Lloyd's Registry for Shipping. In recent years, it has been repurposed as a center for growth, creativity and connection.
Location 2: Binnenkant 24, 1011 AX Amsterdam is categorized as a Rijksmonument.
How long is this course? How many hours?
This course meets for 20 hours over one week, Monday through Friday, from 13:00 to 17:00.
Will I receive a certificate?
Yes, you receive a PDF certificate of successful completion of this course. All certificates carry the CEDEO logo to show that we are approved providers of customized Business English training.
Will I use a book in this group course?
A book / workbook will be provided and is included in the cost.
It's also important to know that we will encourage you to bring your work challenges to the training sessions. We want to "ground" the training, as much as possible, in the real day-to-day work lives of the course participants.
When can I register?
Registration is currently open for all 2023 sessions of this Business English Intensive course. Because the groups are so small (max 8 participants) they fill quickly, so please register early.
Will my trainer be a native speaker?
Yes, all English Center trainers are native speakers and members of our Amsterdam-based team. They come from the US, the UK, Ireland and Australia. They are qualified, well-educated professionals who will build your skills and confidence from the first session.
We know business! Here are some companies we work with.
Corporate Housing Factory
Baker McKenzie
Rodeo
Foot Locker
Young Capital Recruitment
ING Bank
McKinsey
Vandebron
Abbvie
Gemeente Amsterdam
Several major pharma companies
Who attends the small group Business English Intensive Speed Course in Amsterdam?
Participants range from IT professionals to CEOs to sales managers. We teach HR managers, creatives, software architects, psychologists, business owners, realtors, and logistics specialists.
Many of our clients are Dutch, but we also teach expats from Europe and around the world.
Can you invoice my company?
Of course! Use the buttons above to register with your company details or request a proposal.
Not sure if this Business English course is right for you?
Request your free online intake appointment and we will be in touch soon. Or just call us at +31 (0)20 823 0569. We are happy to speak with you about your English training options.
Will I speak a lot in this course? YES!
Our Business English courses are highly interactive, so you can expect to be talking from session one. In an English Center course, you will engage in real conversations that are relevant for your career and your company. Our quality training focuses on the English you and your colleagues need to succeed. Better email writing, negotiation, pronunciation, presentations…. we can help.
Do I really need good English for business?
There is nothing more important for business than communication! English is the global language for business that opens the door to world markets. Can you effectively persuade, discuss, agree, disagree and tell your business story – in English? If the answer is "no," let us power-boost your Business English ability with a week of Intensive Small Group Business English training – always with a talented, native-speaker trainer from our Amsterdam team. And for powerful mobile homework, use our unique interactive video program.
What will you take away from this Business English Intensive course?
• More fluency & self-confidence.
• Better performance in meetings and presentations.
• Greater ease of speaking (less tiredness).
• Better "powers of persuasion."
• Improved social Business English (small talk).
• Faster, clearer and more accurate emails with less translation.
• Better use of register – formality, directness & diplomatic language.
• Broader Business English vocabulary and idiom.
Not sure about your English level?
These courses are for all CEFR levels B2 – C1+ (beginner to advanced). Not sure of your level? Take our free English level test now.
Contact us today about this small group course, or other Business English training options.
We are happy to speak with you in English or Dutch about Business English courses and training options including online, in-company and private courses. Call +31 (0)20 823 0569 or email info@englishcenter.nl